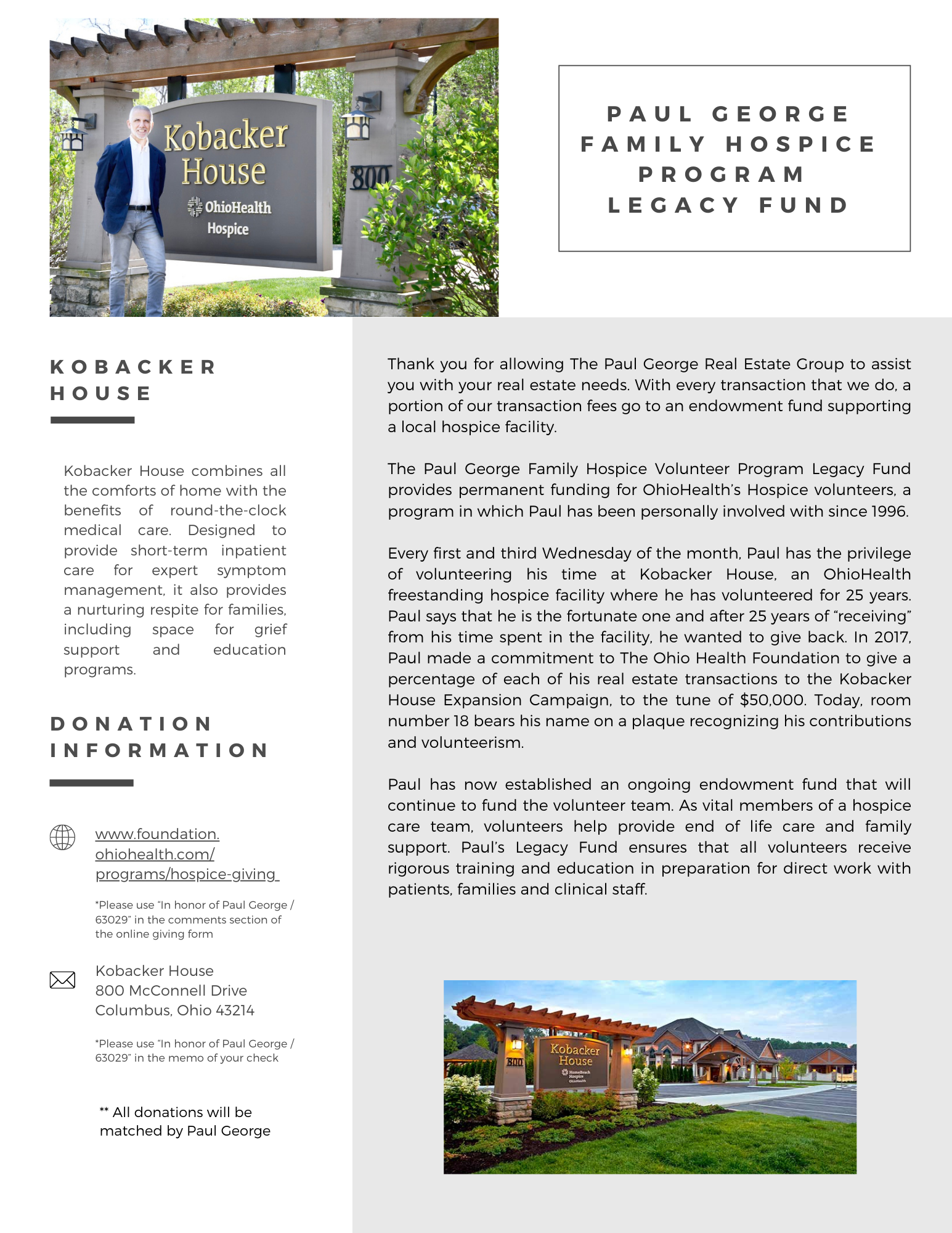 My Why
In 1991, my father passed away. Until that time I had worked in the family grocery business and I thought it would be my career. My business degree from Ohio State University gave me the book knowledge and my time in the stores gave me the real-world experience. Working in the grocery business put food on the table, but it was not my passion. I was ready for a change, but at thirty years old I did not have a clue what to do. Real estate appealed to me because there is no limit to how far you can go and you only earn if you perform, a trait my father had instilled in me. Being a realtor allows me to coach my boy's sports, go on vacations as well as participate in volunteering. As beneficial as real estate was for my family and me, there was still something missing.
A few years after my father passed away, and I started my real estate career, I met my wife Linda. My cousin, who set us up warned me that Linda was part of a package, Linda and her mom. Linda and her mom had the best mother/daughter relationship I had ever seen. They were truly best friends and only had each other. Linda's dad passed away when she was young and she had no siblings. It was just the two of them. Barbara was the most caring, kind and gentle person anyone could ever meet. She lived life the right way and brought up a daughter on her own. She had every right to be selfish with her daughter but accepted me into their relationship. Later that year Barbara thought she was coming down with pneumonia, so she went to see the doctor and was diagnosed with ovarian cancer. Ovarian cancer. There are times in everyone's life when your faith gets tested, and this was one of those times. Most people know the routine; bad periods of chemo, renewed hope when off chemo, new clinical trials, and setbacks. That was pretty much our year in 1994. We worked in trips to Florida, where Barb and Linda loved, and tried to make the best of what we could. The cancer experience forced us to go through the tough times early in our relationship, but the experience crystallized my love for Linda and her mom. In November of 1994 I asked Barbara if I could marry Linda and thankfully, they both said yes, and we planned a wedding for the next summer.
Barbs prognosis took a turn for the worse, and we realized that she would not make it to our planned wedding date. We made the decision to move the date up to February to make sure Barbara could see her daughter get married. When you are laser focused, it is amazing what can be done in a short period of time. We planned a 200 person wedding and pulled it off in less than two months. On February 11, 1995, I married Linda and was privileged to be a part of one of the most beautiful days of all times. Barb had renewed life that day and as perfect as it was for Linda and me, it was the ultimate for Barbara. Her life was complete.
Soon after, Barb's health declined and she began hospice care. She was taken to Kobacker House, which is a standalone hospice facility near Riverside Hospital. Our lives were a whirlwind at the time, but when we arrived at Kobacker House there was a peace as soon as we came through the front door. It is one of those things you can't describe you just feel it. Everyone we came into contact with showed genuine compassion and empathy like I had never experienced and I knew we were in a special place. My experience there made a major impact on my life. I left a different person than when went in. I knew then that I wanted to be a part of this experience in some way.
Soon after Barb's passing, I made the decision to volunteer at Kobacker House. Since 1996 I have been volunteering the first and third Wednesday of every month and have been a part of some amazing experiences. Witnessing what I see at Kobacker House, from the family interactions, patient's perspectives, and the wonderful staff, has made me a fortunate, grateful bystander. I get more out of it than I give.
Being a real estate agent had given me the ability to carve out that time to volunteer for the last 20 years, but I still wanted to do something more tangible. In 2017, Kobacker House was undergoing an expansion to grow the facility by 32 rooms, which was to be funded 100% by donations and would cost $4.8 million dollars. I made the decision to pledge enough to fund one of the family rooms and to give a percentage of each of my real estate transactions to the expansion campaign, to the tune of $50,000. Today, room number 18 bears my name on the wall, but it actually bears the names of all of my friends and clients who have helped me along the way.
Now, after volunteering for 25 years, I have started a new project. The Paul George Family Hospice Program Legacy Fund is an endowment to fund volunteer needs and services that will aid patients with end-of-life needs. The fund will also contribute to ongoing training for volunteers. My hope is that this endowment will grow in perpetuity and that future generations can benefit from the funds and my vision of understanding, caring and comfort for families with end-of-life care.